What I offer
Specialists of the Gran Paradiso and west Alps.
Our goal is to help you learn about the area, climb the highest peaks along the routes and hidden ... but also reach the highest peak, the Gran Paradiso 4061 m high.
In summer I can offer, the classic climbing on the highest peak of the oldest National Park of Italy the Gran Paradiso 4061m.
The countless 4000 of the Alps, for winter climbing the frozen waterfalls and ski touring in the spring with our haute-routes. If you fancy a day of rock climbing we will know the legendary Orco Valley or the beautiful granite of the valley of Piantonetto.
Gran Paradiso Guide aims to provide the thirty years of local knowledge and ten years of professional experience around the Alps, to let you know and appreciate what for me is one of the lesser known but certainly fascinating massifs of the western Alps.
We are not only professionals, we are also of the fans who frequent the mountains and also play sports in their free time.
100% made in Italy!
I offer my services to all the outdoor and mountains lovers who want to discover Italy and its natural beauty by trekkiing, biking or skiing, but always following a natural rythm and enjoying a full immersion in the territory.
why not take advantage of all that Italy offers?
Mountains, evocative uncrowded natural environments, kind hospitality, culture and good food!
Passion, experience, dynamism and professionalism to make Italy known and appreciated from another point of view!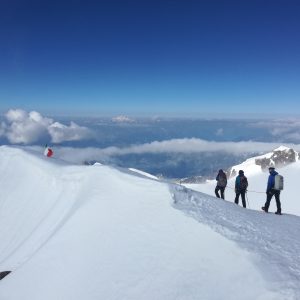 MONTE ROSA – MARGHERITA HUT 4554m 2 days summer
23/06/2019
Queen Margherita hut is on the top of Gnifetti peak, at 4554 m. It is the highest-altitude refuge in Europe and from the summit you can admire a wonderful view on the Alps chain and the Padana plain. Program Day 1: meeting with the guide in front of the ticket office of the lift in Staffal at 2.30 p...
LEGGI TUTTO